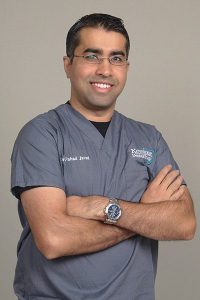 Dr. Fahad Javed

Dr. Javed graduated from Indiana University School of Dentistry in 2005. He often continues his education in dental implants, advanced surgical and cosmetic procedures, such as wisdom teeth removal and dental veneers. Other areas of advanced training include Invisalign®, implant placement, vertical sinus lifts, and root canal treatment. He has served the Indianapolis, Indiana, area for over 9 years. As a dentist, his goal is to provide patients with the best experience possible, go above and beyond their expectations, and make them feel we are a caring, understanding, well-trained team striving to help them achieve their individual dental goals. One of the best things that he enjoys about being a dentist is the ability to immediately make a difference in a patient's life by relieving their pain from a toothache or rebuilding a cracked tooth in a matter of minutes.
Dr. Javed is married and has a son and daughter. His hobbies include spending time with his family, playing pickup basketball games, and watching the Cubs.
---
Meet Our Team
Our team is thrilled to provide professional and nurturing dental care for our patients at Keystone Dental Group. We are excited to meet you and care for your smile when you visit Dr. Fahad Javed, our dentist in Indianapolis, Indiana.
---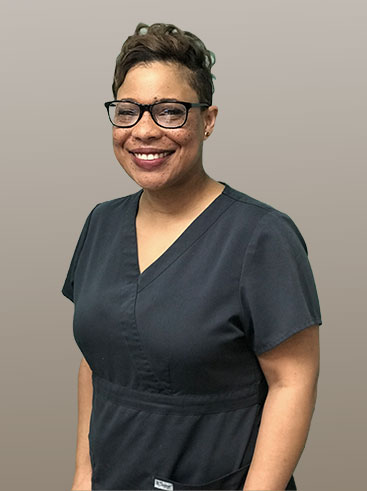 Marricka – Expanded Duties Dental Assistant (EDDA)
Marricka has been a dental assistant for over 20 years. She as an ardent about dental assisting and patient education. She loves when she can change a patient's misconceived thoughts about dentistry. She considers her patience to be her best attribute.
Marricka is happily married and has five daughters. In her free time, she enjoys baking. "I love making art you can eat!"
---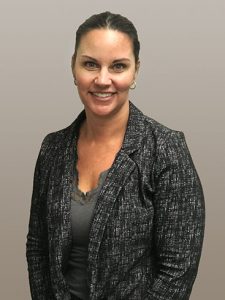 Melissa – Office Manager
Melissa has had over 20 years working in many different aspects of the dental field. She has experience as an expanded duties dental assistant, a dental instructor, as well as an office manager. She is eager to build relationships with all our patients and to make every part of their experience wonderful, from their first phone call to the goodbyes as they walk out the door after their appointment!
When she is not in the office, Melissa enjoys spending time with her husband, her four children, working out, and traveling.
---
Olivia – Dental Hygienist
Olivia joined our team and brings her personable, friendly demeanor to work every day. She loves being a part of a team that genuinely cares about connecting providing the best care they can together, and she is excited to help build relationships with our patients. Olivia holds a Bachelor of Arts in biology from Olivet College, and she graduated with a Bachelor of Science in dental hygiene from University of Detroit Mercy School of Dentistry in 2019.
Olivia and her husband enjoy hiking with their dog, Max, and spending their weekends in Northern Michigan on her parents' homestead. They also enjoy hunting and fishing.