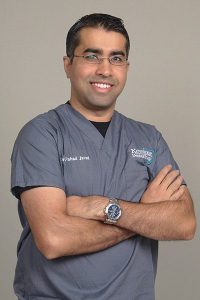 Dr. Fahad Javed

Dr. Javed graduated from Indiana University School of Dentistry in 2005. He often continues his education in dental implants, advanced surgical and cosmetic procedures, such as wisdom teeth removal and dental veneers. Other areas of advanced training include Invisalign®, implant placement, vertical sinus lifts, and root canal treatment. He has served the Indianapolis, Indiana, area for over 9 years. As a dentist, his goal is to provide patients with the best experience possible, go above and beyond their expectations, and make them feel we are a caring, understanding, well-trained team striving to help them achieve their individual dental goals. One of the best things that he enjoys about being a dentist is the ability to immediately make a difference in a patient's life by relieving their pain from a toothache or rebuilding a cracked tooth in a matter of minutes.
Dr. Javed is married and has a son and daughter. His hobbies include spending time with his family, playing pickup basketball games, and watching the Cubs.
---
Meet Our Team
Our team is thrilled to provide professional and nurturing dental care for our patients at Keystone Dental Group. We are excited to meet you and care for your smile when you visit Dr. Fahad Javed, our dentist in Indianapolis, Indiana.
---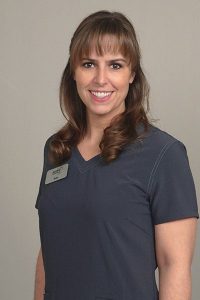 Kate – Office Manager
Kate has over 10 years of experience in the dental field. In 2012, she graduated from IU Kelley School of Business in Indianapolis with degrees in business management and human resources management. She is well-rounded in the technical side of dentistry, as well as administration responsibilities dealing with the day to day operations of an office. She takes pride in her level of customer service and being able to create a great dental experience for patients that usually have a negative view of going to the dentist office. She has had the opportunity to work with a lot of different doctors, and yet has a lot of respect for Dr. Fahad Javed, the personal connection he has with patients, and the quality work that he delivers. Kate loves working with a genuine dentist and team that do the right thing for the right reasons for our patients. She loves that we can take care of so many dental needs without referring out to other offices.
Kate was born and raised in Indiana. She loves traveling, singing, and music. In fact, she grew up with music thanks to her dad's band, The Wright Brothers.
---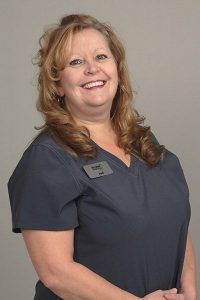 April – Expanded Duties Dental Assistant (EFDA)
April has worked in the dental field for over 28 years, beginning her career in the front office. She is experienced in general dentistry, pediatrics, sedation dentistry for handicap adults, coronal polishing, and fluoride treatment. Continuing her education, she received her radiology licenseat IU Dental School in Indianapolis, IN. Her knowledge and experience add value to our practice by instilling confidence and trust in our patients. April loves working with Dr. Fahad Javed, who is kind and true to all of his patients and has their best interests at heart. She had the pleasure of working with Dr. Fahad Javed before he opened his first practice and looks forward to the future and growth of the practice. In fact, she believes that Keystone Dental Group has one of the most educated and kind-hearted teams, and she hopes to retire with this practice some day.
April and her husband of 20 years have 5 children and 10 grandchildren. They also run a small petting zoo of horses, goats, chickens, ducks, turkeys, and more.
---
Cortney – Dental Hygienist, RDH
Cortney comes to work every day with an open mind, ready to contribute to patient care and growing our practice. Cortney spends the majority of her time with patients who come for dental cleanings, and she enjoys developing trusting relationships that make patients look forward to coming back each month. Our level of patient care is important to Cortney and our team. We want to be sure that our patients understand their dental needs. If there is a problem, we can find a solution. Cortney truly enjoys our team and loves that we all get along and respect one another.
Cortney has been happily married since January of 2015. In her spare time, she enjoys exercising, running, and bike riding.
---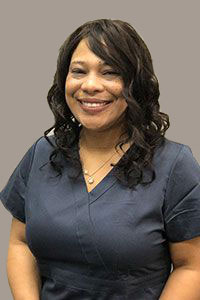 Marricka – Expanded Duties Dental Assistant (EDDA)
Marricka is the newest all-star to be added to our Keystone Dental Group team. Marricka has been a dental assistant for over 20 years. She as an ardent about dental assisting and patient education. She loves when she can change a patient's misconceived thoughts about dentistry. She considers her patience to be her best attribute.
Marricka is happily married and has five daughters. In her free time, she enjoys baking. "I love making art you can eat!"
---